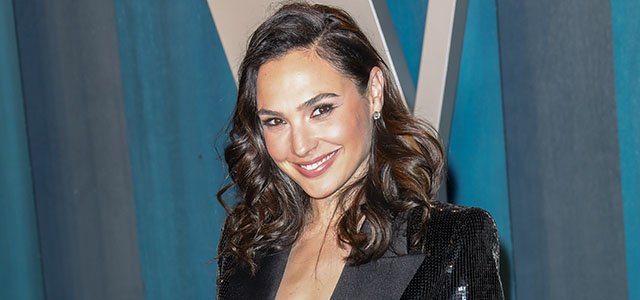 As well as playing the lead role in Wonder Woman – the highest-grossing movie by a female director (Patty Jenkins) – movie star Gal Gadot has shown herself to be a real-life superhero on numerous occasions.
Gadot is about to put on her cape for the fourth time in Wonder Woman 1984 (showing at Regal theatres on December 25), having appeared as Wonder Woman/Princess Diana) in Batman v Superman: Dawn of Justice (2016), Wonder Woman (2017) and Justice League (2017).
Her next adventure finds our heroine facing two new baddies in the sequel to the hugely successful Wonder Woman, which took $822m worldwide. Patty Jenkins is back in the director's chair, Chris Pine returns as Steve Trevor, and they're joined by Kristen Wiig as The Cheetah, Pedro Pascal as Max Lord, Robin Wright as Antiope, and Connie Nielsen as Hippolyta.
As we await the release of Wonder Woman 1984, we round up some of the occasions on which Gal Gadot has been a bona fide Wonder Woman.

1. Supporting her female peers

Gadot is an outspoken supporter of the #MeToo movement, as shown in this tweet that sent an encouraging message to other women in the movie business about standing up and supporting each other.
October 13, 2017
2. Using her fame for good

Gal is a successful model and her role as Wonder Woman has made her a very attractive brand ambassador, but she has tried to use her fame to empower young women and choose companies that are in line with her beliefs. She chose to work with sports brand Reebok because of "the brand's philosophy of fitness as a transformative and empowering tool". The 'Be More Human' campaign aims to shine a light on women who are transforming themselves and the world around them.

3. She loves her young fans
There are many stories of our real-life Wonder Woman embodying the role of a people's princess and taking the time to talk to her fans, especially the young people who look up to her. During filming, she spent a day on set with a group of sick children who were visiting and has paid visits to children's hospitals to see her fans.
4. She was pregnant while filming some scenes of Wonder Woman

As well as gaining 17 pounds of muscle for the role of Wonder Woman and going through intensive training of six hours a day for six months in swordsmanship, kung fu, capoeira and Brazilian jiu-jitsu, Gal was also pregnant while filming some of the scenes of the movie. If that doesn't prove her superpowers, we don't know what does. Total badass.
5. She wore flat shoes to the Wonder Woman premiere

Gadot raised a few eyebrows when she showed up to the 2017 Los Angeles premiere of Wonder Woman wearing a red sequinned Givenchy dress teamed with a pair of flat sandals. The look broke with red carpet tradition somewhat, and proved that the actress is very much her own woman. When asked by Variety magazine why she'd chosen that particular footwear, she replied: "It's more comfortable. That's it."
.@GalGadot has a very simple reason for wearing flats instead of heels to the #WonderWoman premiere. pic.twitter.com/P6ytSnjOIu

— Variety (@Variety) May 26, 2017