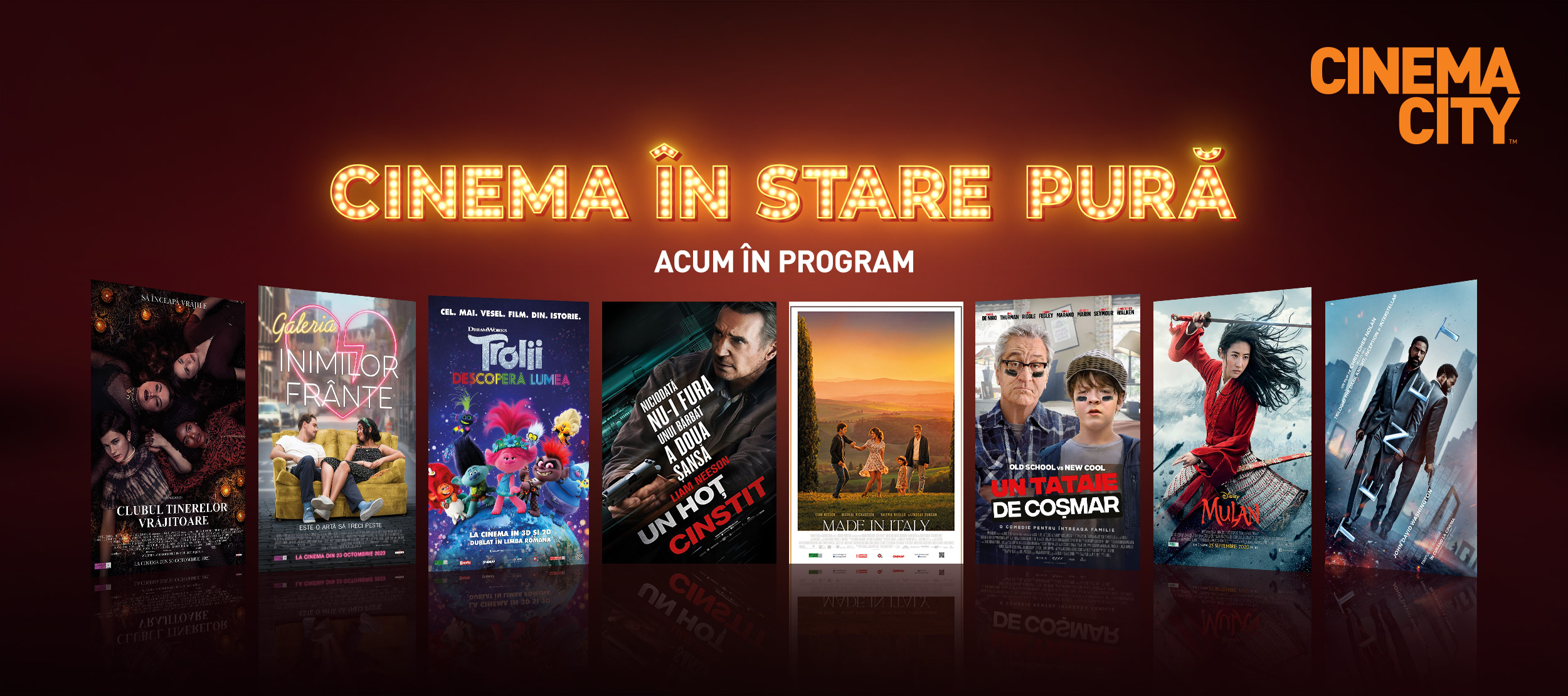 Cinema City brings you the best experience to watch a movie. Action, comedy, emotion, you can find them all NOW at Cinema City. You just have to choose. Don't forget to check our LIVE STATUS WITH CINEMAS OPENED NOW to see if your favourite location is open.

The Craft:Legacy
Get tickets now
If you could make spells, on whom would you cast a spell? :) Let the witches from Craf: The Legacy inspire you. And also, you can enjoy seeing David Duchovny returning on the big screen. In a supporting role, but still :). HERE you can find out what about the script convinced him to star again in cinema movies.
The Broken Hearts Gallery
Get tickets now
Sometimes we keep in our souls memories of previous relationships, but what happens when this collection haunts us and thus prevents us from healing our wounds and opening our hearts to new relationships? Screenwriter Natalie Krisnky proposes a unique and comic approach to the situation, based on one of her own experience. "I was 25-26 years old when I started writing about this project […] I had a bad breakup and I was struggling to find my way around the world, so I wanted to write a film about a girl like me." The screenwriter's experience in the famous productions "Gossip Girl" and "Grey's Anatomy" spoke for itself, inspiring her to create her own romantic story. "Broken Hearts Gallery" addresses, with humor and optimism, to all those with broken hearts.
Trolls: World Tour
Get tickets now
The happiest movie in history is now playing at Cinema City. If you didn't had the chance to see it, Trolls: World Tour is the perfect animation to see it with the whole family at the cinema. This animation fueled with music, humor and funny characters is the perfect way to relax yourself on a weekend afternoon at the cinema.
What's cooler than an action movie with Liam Neeson? The British actor continues the series of thrillers full of adrenaline and brings us in Honest Thief the story of an old bank robber who wants to surrender because he fell in love. But everything gets complicated because of two corrupt FBI agents who follow in his footsteps, determined to eliminate him and steal the money he intended to give back. Don't miss your chance to witness all of the high-stakes, pulse-pumping, adrenaline-fueled action.
A bohemian artist travels from London to Italy with his estranged son to sell the house he inherited from his late wife. Made in Italy brings on screen Liam Neeson and his son, in a movie that is a tribute to his late wife, Natasha Richardson, who died in after a ski accident in 2009.

The War with Grandpa
Get tickets now
When he wants to, Robert de Niro is damn funny, not just grumpy. He shows us this in the comedy War With Grandpa. The title says it all, doesn't it? :)
We need adventure, a lesson in courage and honor. And Disney offers us all this in the live-action and extremely spectacular version of the movie Mulan, perfect to see it in cinema, with the whole family.
>We have one word for you: TENET. If you haven't seen it yet, you have another chance to enjoy it in the nearest cinema in your city. Don't miss one of the most fascinating cinematic experiences, one of the most talked about movie of the years, from the visionary director Christopher Nolan.