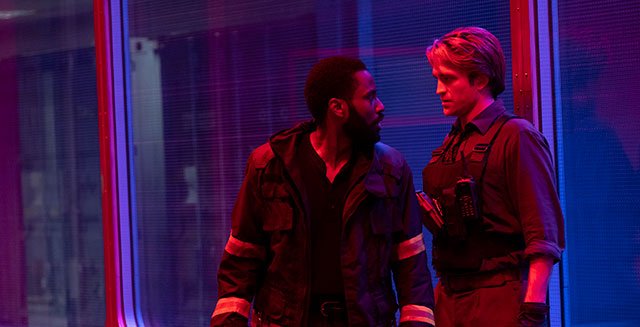 Defying expectations both in its financial performance and its ability to bend reality around your cinema seat, Christopher Nolan's Tenet has become the most talked-about movie of the year.
Given the restrictions still in play due to COVID-19, many have yet to be sucked into the British director's world of undercover agents and manipulation of the space-time continuum. However, there is still time to join John David Washington on his thrilling mission, which as far as both Nolan and we're concerned, is best seen on the biggest and best-sounding stage possible: IMAX.
1. It was filmed for IMAX
A staunch advocate of the IMAX experience, director Christopher Nolan has filmed many of his scenes from recent films using the larger IMAX cameras. Tenet is no different, with the engulfing nature of the extra dimensions afforded by this technology being pivotal to his vision.
Given the leaps forward Nolan has made with the experimental equipment from The Dark Knight to Interstellar and Dunkirk, it's no surprise that Tenet ups the stakes yet again. If you really want the genuine article, seeing Nolan's groundbreaking piece in the environment for where it was intended is a must.

2. Ludwig Göransson's soundtrack


While his usual partner in bombastic sound, Hans Zimmer, is off doing Dune, Christopher Nolan has teamed up with Oscar-winner Ludwig Göransson for a score that befits the director's multi-sensual scope. It's subtle and surprising, even for the experimental composer who's famous for his collaborations with rapper Childish Gambino (actor Donald Glover), as well as containing the suffocating, brutal onslaught of haunting electronics that Nolan's pictures are custom-made for, and is of course best experienced with IMAX's clear sound system.

3. The incredible action scenes


Nolan has proven himself time and again to imbue his fiendishly inventive works with rounded characters, gripping narratives and resonant themes. However, he's also a master of intricate, arresting action spectacles that fill every inch of the huge canvases he portrays them on. Tenet is no different, with two scenes in particular staying with you long after the credits have rolled. A car chase with vehicles flipped in reverse and an all guns blazing battle at the end are exquisitely coordinated to fit in with the film's time-bending chaos. As Small Screen said in its review, it's these set pieces that make Tenet a "must-see film on the biggest screen you can get to".

4. Kevin O'Connell's sound editing

It's not just the declamatory music that make Nolan's pictures such a feast for the ears as well as eyes, with the sounds of explosions, Batmobiles, dive bombers and other piercing effects also leaving a physical impression. Enlisting the expertise of veteran mixer Kevin O'Connell, whose work on the likes of Top Gun, Transformers and Hacksaw Ridge conjures memorably penetrating rumblings, has certainly helped on Tenet reach Nolan's immersive standards. O'Connell's effects-laden journey through time should be complemented with the best sound system around.

5. Its capacity to blow your mind

The spy-fi-thriller is indeed a visual extravaganza with a punishingly component sound to match, and so is ideal for IMAX. But such is Nolan's adherence to elevating summer blockbusters with angular concepts and top-draw cerebral manipulation, that the IMAX experience makes the most sense to lose yourself in for two hours, even if you leave wondering if it made any sense. It's the nearest you can get to a 360-degree view as you follow John David Washington and Robert Pattinson in the high-stakes attempt to alter time without actually being on-set.