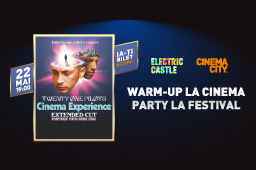 - LIVE THE TWENTY ONE PILOTS EXPERIENCE TWICE -
FIRST AT CINEMA CITY, THEN AT ELECTRIC CASTLE
Twenty One Pilots won the hearts of millions of fans with hits like "Ride", "Blurryface" or "Stressed Out". In 2020, when they had to take a break from meeting fans and stay isolated in their homes, the Grammy winners composed a brand new album.
The sixth album was released in 2021 as a Livestream Experience featuring a total of 21 tracks - the new songs from "Scaled and Icy", their 2020 standalone single "Level of Concern", as well as the live versions of other hits.
Now it's time to fully celebrate the return of Tyler Joseph and Josh Dun to touring and live concerts. The epic "Scaled And Icy" album release celebration from 2021 comes to cinemas worldwide on May 22, 2022.
Enjoy the psychedelic reimagined take on live theatre and performance at the next level. The Twenty One Pilots Cinema Experience will take you to an eclectic catalog and imagination of one of the most creative acts in music, with the audio and video remastered for the big screen and the addition of never-before-seen content.
FIND OUT MORE HERE
This is the perfect warm-up before you'll get to see Twenty One Pilots live, on July 15, at the 8th edition of Electric Castle. Get ready to sing along with Tyler and Josh!
WATCH TRAILER: