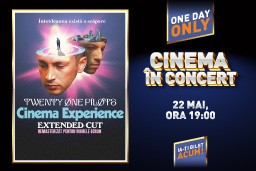 TWENTY ONE PILOTS CINEMA EXPERIENCE
- ONE DAY ONLY -
The release of the remastered 2021 album "Scaled And Icy" is celebrated with a special event for the big screen.
At Cinema City you enjoy exclusive content, unseen so far when watching "Twenty One Pilots Cinema Experience"
The Grammy award-winning duo - Twenty One Pilots - can be seen, felt, and lived in Cinema City cinemas on May 22nd. You will discover the psychedelic, reimagined interpretation of the live show, this time on a huge scale.
The show will feature remastered audio and video content for the big screen and exclusive content never seen before.
Distribuție: Tyler Joseph, Josh Dun
Regizor: Jason Zada
Formate disponibile: 2D
Durată: 86 minute
Vizionare trailer: