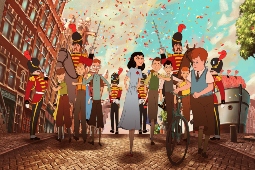 - The animated movie "Where is Anne Frank" can be seen at Cinema City, starting 20th of MAY -
"Where's Anne Frank ?," by Oscar-nominated Israeli Ari Folman, two BAFTAs, and Golden Globe winners, and the César Award for Waltz with Bashir, is a unique way for audiences to delve deeper into history and various details about the Holocaust can be found in both children and adults.
Kitty was the imaginary friend of Anne Frank, to whom she dedicated her diary and later published it. The character comes to life in today's Amsterdam, in an emotional and immortal story about the power of hope, in a story based on the famous Diary written by Anne Frank. In the animation that will be seen at Cinema City, topics such as racism, discrimination and intolerance will be reported.
Not knowing that 75 years have passed since Anne Frank's death, Kitty is convinced that if she is alive, then she must be her friend. This is how the film tells the story of Kitty's journey through modern-day Europe to find Anne. Armed with the precious Diary and with the help of her friend Peter, who is in charge of a secret shelter for refugees, Kitty follows in Anne's footsteps and tells her the story. Disoriented by our flawed world and the injustices that refugee children endure, Kitty wants to end Anne Frank's case. Through her honesty, Kitty sends a message of hope and generosity to future generations.
The production present at the Cannes competition in 2021 is based on a graphic novel and stands out with fabulous graphics, with effects that make up a gray or cold world or a colorful one in hopes. On the big screen, the whole action feels more internal thanks to the realism with which the stories are made, which sometimes seems to be confused with magic.
Anne Frank gained posthumous fame with the publication in 1947 of the book "The Diary of a Young Girl", in which she documents her hidden life from 1942 to 1944, during the German occupation of the Netherlands in World War II. It is one of the most famous books in the world and has been the basis of several plays and movies. She spent most of her life in or around Amsterdam. As the persecution of the Jewish population increased in July 1942, her family hid in the secret rooms behind a library in the building where Anna's father, Otto Frank, worked. Until her family was arrested by the Gestapo on August 4, 1944, Anne kept a diary, which she received as a birthday present, and wrote in it regularly.
Following their arrest, Anne Frank's family was transported to concentration camps. On November 1, 1944, Anne and her sister Margot were transferred from Auschwitz to the Bergen-Belsen concentration camp, where they died a few months later. Otto, Anne's father, the sole survivor of the Frank family, returned to Amsterdam after the war to find that Anne's diary had been saved by her secretary, Miep Gies. He decided to fulfill Anna's greatest desire to become a writer and publish her diary in 1947. It was translated from its original Dutch version and first published in English in 1952 as The Diary of a Young Girl and has since been published. has been translated into over 70 languages.
Where is Anne Frank? it will premiere in cinemas across the country on May 20, 2022, and is recommended for children over 9 years.
The English version with Romanian subtitles is shown in cinemas and will last 99 minutes.
WATCH TRAILER: