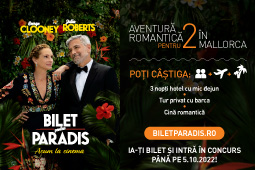 WIN with the movie "Ticket to Paradise" a luxury trip in Mallorca
You could be the lucky winner of a romantic holiday for two!
Buy a ticket at Cinema City for the romantic and humorous movie "Ticket to Paradise" with George Clooney and Julia Roberts. After you've been to the cinema and had fun with the film's protagonists, sign up for the contest until October 5.
The romantic comedy tells the story of a divorced couple who go to Bali to prevent their daughter from making the mistake they believe they made 25 years ago, which is to get married.
The package for two includes:
a 3-day getaway in Mallorca, the largest Spanish island in the Mediterranean;
accommodation with daily breakfast;
plane tickets for transportation;
private boat tour with snorkeling equipment (diving/swimming at the surface of the water);
dinner at a top restaurant in Mallorca;
Don't forget to keep the ticket - TERMENE ȘI CONDIȚII AICI.
The winner will be chosen on October 11th and will be contacted to confirm the prize.
TRAILER: