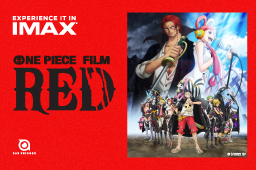 ≈ ONE PIECE FILM: RED ≈
One Piece Film Red it will be seen in Romania before the US release
The global phenomenon One Piece will reach cinemas in Romania with the official premiere date of October 14, and previews from October 8 and 9 - before the United States, Canada, Australia and New Zealand. The film will run in Romania in 2D, Dolby Atmos, 4DX and IMAX - will be distributed in subtitled version by Bad Unicorn.
Earlier this week, it was confirmed that One Piece Film Red has become the highest-grossing film of the year in Japanese cinemas. In addition, it had more than 10 million tickets sold.
⇒ ONE PIECE FILM: RED to be seen at Cinema City in IMAX
You can buy tickets for One Piece Film Red screenings at IMAX here.
Projections in the T IMAX theater at Cinema City use a unique technology in Romania. They create the impression that you are in the middle of the action so well because, compared to a movie in classic 2D format, the images are 40% clearer and 60% brighter, and the sounds are 10 times more dynamic. Among the reasons why you should choose to watch One Piece Film: Red in the IMAX theater:
the technology and design of the cinema make you think you are part of the action of the film
sit closer to the screen, so images are more immersive, bigger, clearer, more optimized and adjusted in real time
an amazing experience also powered by vibrations, powerful sound that "shakes" - ten times more dynamic than standard halls - speakers that distribute sound precisely
IMAX cinemas position you as best as possible to see everything perfectly, wherever you look: the screen is wider, taller, more curved
One Piece Film Red is executive produced by One Piece creator Eiichiro Oda, directed by Goro Taniguchi, scripted by Tsutomu Kuroiwa, and produced by Toei Animation.
⇒ ONE PIECE FILM: RED - new anime at Cinema City
Uta, the most beloved singer in the world, whose identity on stage is a secret, has a voice that many consider angelic. For the first time, Uta is going to reveal who she really is during a live concert. The hall fills with fans: pirates eager to see her, the wide-eyed Marina and Luffy's crew, who have come to enjoy the show. Everyone is eagerly waiting for the one who conquered the world with her voice. The story begins with a shocking detail for many: Uta is Shanks' daughter!
One Piece Film Red is the fifteenth feature film in the One Piece film series and marks the 25th anniversary of the series, one of the most beloved manga in Japan and around the world. First published in 1997, it has achieved the feat of selling over 490 million copies worldwide, earning author Eiichiro Oda a Guinness World Record. With over 100 volumes, over 1000 episodes and over 1000 different characters, One Piece is one of the longest running series in the world and represents a large part of the global interest in anime/manga.
TRAILER: