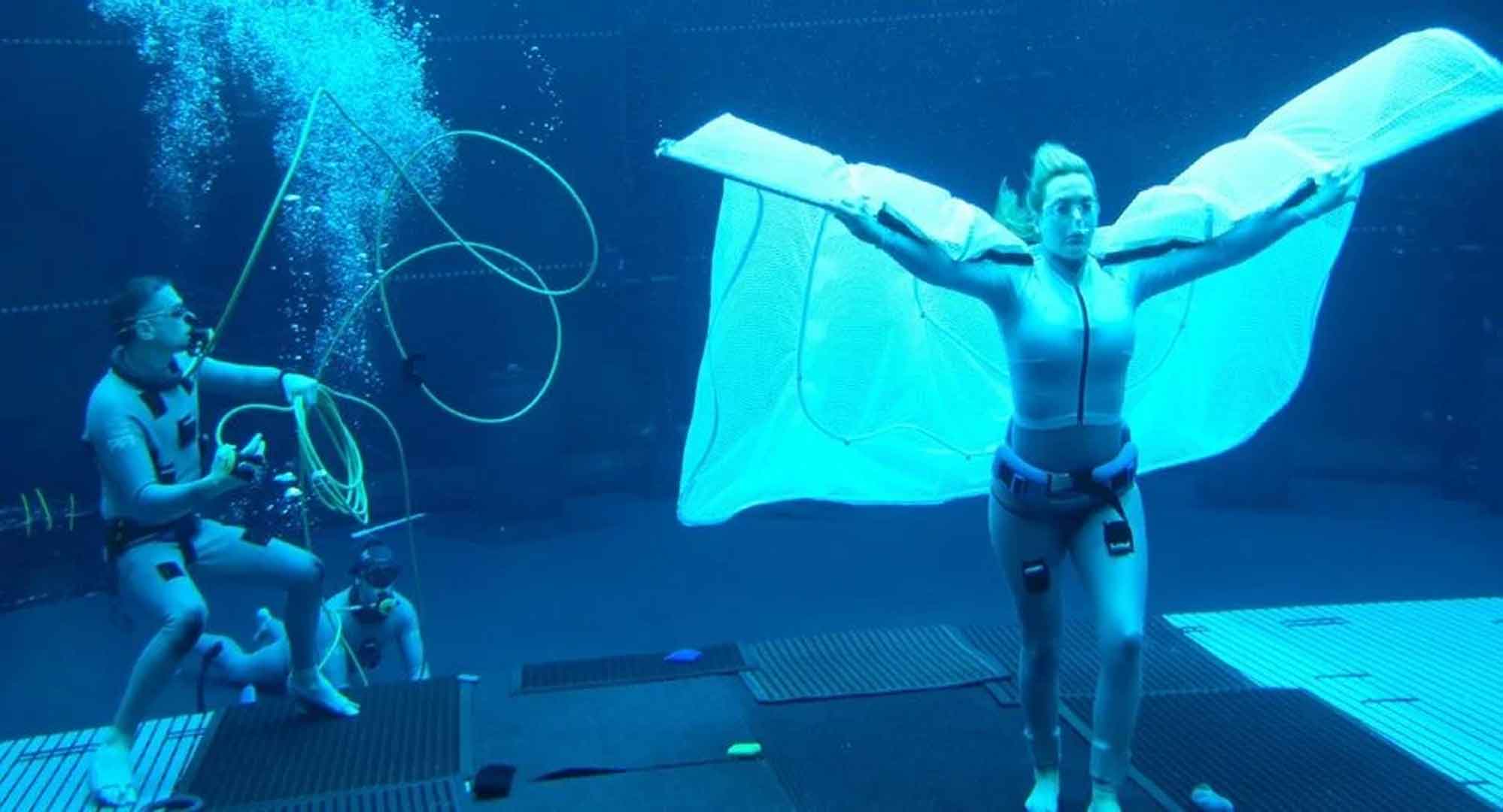 A new set photo for Avatar 2 shows Kate Winslet filming underwater in her mo-cap suit. James Cameron's long-awaited sci-fi sequel has been delayed numerous times over the years, with the most recent release change pushing Avatar 2 all the way to December 2022. This means 13 years will have passed between the first Avatar (2009) and the second, and it remains to be seen if that lengthy gap will impact the franchise's performance. Regardless, there's definite interest in how Cameron will continue the story of Jake Scully (Sam Worthington), Neytiri (Zoe Saldana), and the other inhabitants of Pandora.
Plot details for Avatar 2 are still being kept under wraps, but it's been revealed that Jake and Neytiri will have a family that they will have to protect. In doing so, the once-star-crossed pair will travel to Pandora's oceans and meet with the sea-dwelling clan called the Metkayina, led by franchise newcomer Cliff Curtis' Tonowari. It's there that they will also find Ronal, a Na'vi played by Kate Winslet. Not many details about Winslet's character have been revealed, but fans have seen the actress on set in a few of Avatar 2's previously released set photos.
Winslet is the subject of the latest behind the scenes image, courtesy of the official Avatar social media account. In it, Winslet is completely submerged underwater and wears her motion-capture suit. Perhaps most interestingly, it looks as though her character has wings, or at the very least, is wearing some kind of cape. Check out the image down below.
From Kate Winslet's recent interview in @THR: "I had to learn how to free-dive to play that role in Avatar, and that was just incredible. My longest breath hold was seven minutes and 14 seconds, like crazy, crazy stuff." pic.twitter.com/ZYAmZdNgHS

— Avatar (@officialavatar) October 26, 2020
The tweet also includes a snippet from a recent Winslet interview, in which she said she once held her breath for over seven minutes.
Kate Winslet and James Cameron have collaborated in the past on Titanic, who became one of the most legendary love stories in cinema, but was also the top grossing movie of all time for many years, until James Cameron dethroned his own success with Avatar. Last year, however, Avatar was dethroned after a decade by the latest chapter in the Avengers series, Endgame.
Although Kate Winslet did not complain about the filming conditions for the Titanic, the 45-year-old British actress hinted that things worked better in this collaboration with the Canadian director.
"It was so wonderful to work with Jim again. Time has changed him. Jim has become a father a few more times over. He is a calmer person. Chilled. You can just feel him enjoying it more this time."
Last week, fellow Avatar 2 actress Sigourney Weaver shared she too trained to hold her breath for long periods of time underwater because of the many aquatic scenes featured in the sequel. Clearly, that extended to the rest of the cast, and it demonstrates the impressive lengths they all went to in order to achieve something special for the film.
Equally impressive is Sigourney Weaver's dedication. The famous actress was very ambitious and wante to prove that although she is 71 years old, she is able to keep up and do spectacular things, although she admits that she had some concerns about filming these scenes. "I had concers in the beginning But that's why I did these special workouts. In addition, I didn't want anyone to think about me that I can't do this because I'm 71 years old, I really wanted to prove that I can" said Weaver in an interview with The New York Times.
From the set of the Avatar sequels: Sigourney Weaver never shies away from a stunt, not even when it's underwater! pic.twitter.com/MnZ0cgGGjP

— Avatar (@officialavatar) September 10, 2020
Between the technology Cameron developed for Avatar 2, as well as the many behind the scenes teases that have emerged in recent months, fans are incredibly curious to see how the film will turn out when it hits the big screen. The 2009 Avatar was a visual marvel, but special effects have come a long way since then. Avatar 2 and the sequels that follow will have to go even farther than what came before to amaze fans, so it's perhaps a good thing that Cameron spent so much time perfecting the tech. And these set photos have only increased fans' interest.
Read also: AVATAR 2 HAS COMPLETED FILMING, JAMES CAMERON CONFIRMS
Key Avatar Release Dates
Avatar 2 (2022)
Release Date: Dec 16, 2022
Avatar 3 (2024)
Release Date: Dec 20, 2024
Avatar 4 (2026)
Release Date: Dec 18, 2026
Avatar 5 (2028)
Release Date: Dec 22, 2028