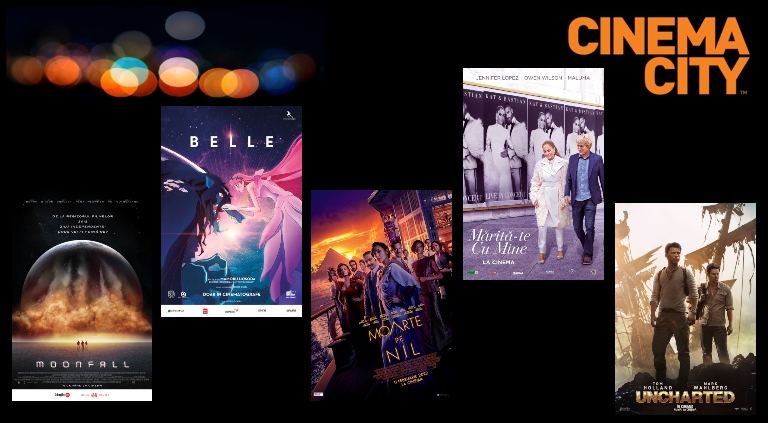 In February, Cinema City celebrates love movies, adventures, comedies, and family stories or fantastic productions that make you enter other worlds. Find out from this material which premieres you are not allowed to miss at the cinema in the next period!
Romantic comedies with sweet stories
Marry Me: premieres on 11th of February
The perfect Valentine's Day movie to watch - and more! The romantic comedy "Marry Me" comes with a subject that will make you smile from the beginning: after finding out that the one she was supposed to marry was cheating on her, a pop artist decides to continue with the wedding, choosing at random someone from public. The idyll is played by Jennifer Lopez and Owen Wilson, who also have Maluma, John Bradley, and Sarah Silverman with them. Surely a few songs will be hummed at the end - most of them are composed and performed by the artist JLo.
The Worst Person in the World: premieres on 4th of February
An atypical proposal for the month of lovers is the romantic comedy "Verdens verste menneske": The Worst Person in the World. With elements of black humor, the film chronicles a woman, Julie (Renate Reinseve), and her attempts to figure out what she really wants. Observed through the adventures of love affairs, family problems and career challenges, the protagonist has an important mission: to realize who she really is. The movie can be, if you will, a movie about self-love. The film is part of the trilogy of director Joachim Trier, along with "Reprise" and "Oslo, August 31".
Super-heros malgre lui: premiers on 25th of February
"Super-heros malgre lui" is a French comedy with great chances to cheer you up and which could be ideal for a couple, movie, to please both him and her. Here we meet an actor who has great financial problems - but even greater difficulties in love. When things finally seem to change, he has an accident and wakes up with no memory, he is even convinced that he is a superhero.
Exploration in unknown worlds
Belle: premieres on February 4th
Belle marks an event for the big screen and shouldn't be missed! The anime that will make you fall in love with this genre presents you with a modern interpretation of the fairy tale "Beauty and the Beast", this time with characters anchored in a virtual universe, where everyone can be who they want. A spectacular fantasy production, colorfully captivating and energetic, and with a story that offers lessons about friendship and family, the anime can be watched in both the dubbed version and the original Japanese with subtitles. At the Cannes premiere, the film was greeted with a standing ovation that lasted almost 15 minutes.
Moonfall: premieres on February 4th
If you liked the movies about disasters that Roland Emmerich has delivered so far - "Independence Day", "2012", "The Day After Tomorrow" - then Moonfall is a movie you have to see this month at Cinema City. The film proposes a gloomy scenario: what would happen if the Moon were to go to Earth if it were shot down from its orbit? With a deadline that leaves no time for mistakes, only three people have the courage to venture on a dangerous mission to save the Earth and send them to the moon: the characters played by Halley Berry, Patrick Wilson, and John Bradley. Here, he discovers a dangerous secret about our home satellite. The movie can be viewed in IMAX, 4DX, and 2D or VIP format.
For the lovers of adventure and mystery
Death on the Nile: premieres on February 11th
The last time we said goodbye to Hercules Poirot was when he solved the mystery of the "Murder on Orient Express" at the end of which the detective was given a new mission to send him to Egypt. After embarking on a cruise ship and meeting the one who hired him, his peace is suddenly interrupted when a new murder demands his insight, attention, and knowledge. Directed by Kenneth Branagh, who also stars in the mystery film, it brings together Tom Bateman, Annette Bening, Russell Brand, Ali Fazal, Dawn French, Gal Gadot, Armie Hammer, Rose Leslie, Emma Mackey, Sophie Okonedo. Jennifer Saunders and Letitia Wright.
Uncharted: premieres on February 18th
Tom Holland and Mark Wahlberg team up to screen the video game of the same name - "Uncharted". In an action thriller, we meet both Drake and Sully, two characters trying to recover a treasure lost 500 years ago. It's just that a ruthless man (Antonio Banderas) starts the award, believing that he and his family are her rightful heirs. Adventures will feel more intense in 4DX or IMAX; the film will be shot and dubbed in Hungarian for the location in Târgu Mureș.
Nightmare Alley: premieres February 25th
Guillermo del Toro returns with a new film, this time with an adaptation of a 1946 novel - "Nightmare Alley". With Cate Blanchett, Rooney Mara, Bradley Cooper, Toni Collette, and Willem Dafoe, the mysterious neo-noir thriller follows the story of a man who is an expert in human manipulation, in a carnival world.
Dog: premiere on February 18th
This month we meet Channing Tatum, whom we see bonding an emotional friendship with a dog that comes to guard him. The actor also makes his directorial debut for the film where he plays a former border guard, who is tasked with guarding a Belgian female Malinois. In a race against the clock to reach a destination at the end of which they do not know what they will find, the two will have to survive each other.
For the love of Romanian films
Miracle: premieres on February 4th
Bogdan George Apetri presented the third film of a trilogy of investigations under his direction at the world premiere at the Venice International Film Festival, one of the oldest events for movies. The feature film, which you will be able to watch at Cinema City, is divided into two chapters. In the first one, we meet a young nun, who sneaks out of the isolated monastery where she was, to get to the hospital. In the second part, we see a police inspector, retracing her route, hoping to find out what happened to her. Ioana Bugarin and Emanuel Pârvu appear in the main roles of this Romanian psychological thriller.
Lebensdorf: premieres on February 11th
Directed by Valentin Hotea, the love film "Lebensdorf" stars Mimi Brănescu, Ana Covalciuc and Ioana Flora. He is a writer caught up in the crisis of middle age. After leaving for another country, he is caught not only between two cities, but also between relationships with two women - his wife, but also the woman who was his first love, and with whom he meets again. The strange and funny things he will experience will force him to make a decision…