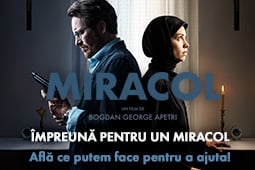 The film team "Miracol" and Cinema City Romania organized a special screening at Cinema City Park Lake on January 25th
The meeting was followed by a discussion with the main actors about the need for support of adolescents in critical situations, de-stigmatization and awareness of the need for psychotherapy, and the lack of trust in society that makes teenagers and young people make hasty decisions without guidance, which can decisively influence their lives.
CHECK THE SCHEDULE FOR MIRACOL MOVIE IN CINEMA CITY LOCATIONS HERE
The discussion moderated by the film critic Ionuț Mareș was attended by: actress Ioana Bugarin, actor Emanuel Pârvu, Yolanda Crețescu, psychologist, president of the Happy Minds Association and the founder of depreHUB and Alexandra Marin, psychologist in the depreHUB team.
In the context of a film about all of us, in which we can all find ourselves, which makes us ask questions, education is done through art, which descends from the screen among us and through this event we set out to open the discussion about the need for support, communication and understanding of adolescents.
"This film made a very fine x-ray of the social problems we all have - it's a relationship crisis: a relationship with the self, a relationship with spirituality, that makes our young people confused and don't know where to go. leads to attachment and we see unnatural relationships, as we see between characters, who are so everyday, we see the imbalance and confusion of our teenage children who wander until they become victims, we see a system that does not work, we see all social problems". told Yolanda Crețescu, the founder of depreHUB
A harsh example unfolds on our screen. But it's a thousand times less harsh than the dozens of real cases of teenagers in need of support. On the screen, we also have a miracle. People who care and follow the truth. It's the director's way of counteracting evil. But in life, unfortunately, the end is not written by an artist…
"We meet Cristina in rural and urban areas, we meet her in poor families and in rich families. We meet a vulnerable Cristina but, due to social models and more vulnerable in the hands of an adult, we meet Cristine without sex education, we meet Cristine who do not know how to seek help and support where they should be, lacking defense and family support, without anchors, very often, are an x-ray of what we live here and now, maybe amoral, maybe in a social cannibalism. It's a film that doesn't put its finger on a wound but shows us how bloody we are all at all, on all levels, "says Yolanda.
Those who made the "Miracle" happen to us, those who support you, we think it's time for another miracle: a tough and sharp conversation about how a cultural product goes beyond a personal artistic act of a director and attacks problems real, heavy and delicate at the same time, which is time to talk. Moreover, not only to speak, but to act. Thus, going to the cinema should not always be just entertainment, but also an educational approach, and viewers can make this approach not only remain in cinemas, but go to talk outside of them, using their platforms. .
"Miracol" enters cinemas on February 4 and on February 2 and 3 can be seen in preview at: Cinema City AFI Cotroceni, Cinema City Mega Mall, Cinema City Park Lake and Cinema City Sun Plaza in Bucharest, at Cinema City Arad, Cinema City Bacău, Cinema City Iulius Cluj, Cinema City Constanța Park, Cinema City Galați, Cinema City Iași, Cinema City Piatra Neamț, Cinema City Pitești, Cinema City Ploiești Shopping City, Cinema City Suceava, Cinema City Târgu Mureș and Cinema City Iulius Timisoara!