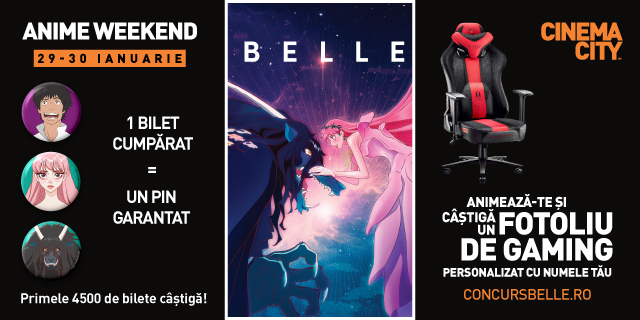 Are you ready to enter the world of U?

Watch anime at Cinema City: #Belle lives on the big screens
It's finally happening! The most anticipated anime of the moment, the creation of Mamoru Hosoda - Belle can be seen on the big screens at Cinema City!
We celebrate this with an anime weekend (January 29-30) in all Cinema City cities! And not only that, every ticket you buy is a guaranteed pin with Belle's characters, who are waiting for you to meet them and join them in "U" - the most advanced virtual community of over 5 million users, created and governed by five sages called the Voices.
The program of the anime Belle from Cinema City can be consulted here.
Come meet Suzu, a shy 17-year-old girl who lives with her father in a Japanese village. One day Suzu creates an account on "U" and thus becomes Belle, a beautiful singer who enjoys success and popularity. In the "U" he meets a scary creature, who lives alone in a floating castle, refusing to let anyone approach or explain to others the wounds on his body. Together, the two embark on a journey full of adventure, challenge and love, in an attempt to become who they really are.
CONTEST
Keep your ticket at Belle, register it on concursbelle.ro until February 18 and you can win a personalized gaming chair with your name on it! Tickets are on sale now on cinemacity.ro!
And don't forget: you can't change your real life, but you can have a fresh start in U! See you at the movies!