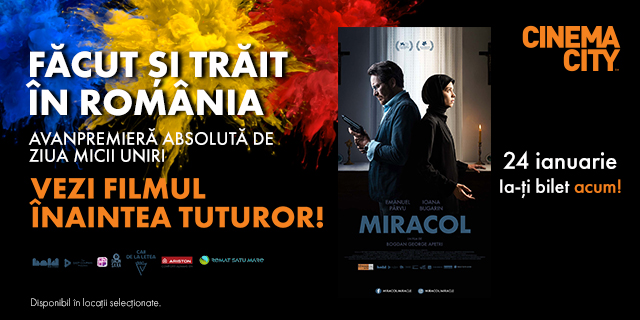 SPECIAL MOVIE PREVIEWS FOR MIRACLE AT CINEMA CITY
On the day of the Romanian holiday, Cinema City brings you an absolute preview, 10 days before the official launch, of a… MIRACLE. A Romanian film in which the genres are harmoniously intertwined, generating the authentic suspense of a police film, the intense feelings of a drama and the visceral intensity of a psychological thriller.
The January 24 preview show is available in 16 Cinema City locations:
AFI Cotroceni
Sun Plaza
Mega Mall
Park Lake
Iulius Mall Cluj
Iulius Mall Iași
Iulius Mall Timișoara
Shopping City Constanța
Cinema City Shopping City Ploieșți
Târgu Mureș
Galați
Bacău Arena Mall
Piteșți
Arad
Suceava
Piatra Neamt
Choose your city, find out the time the show is scheduled and get your ticket! You have one chance, only one show is scheduled for January 24th. The film is set to go live on February 4th.
The program of the movie Miracol for the special event on Cinema City can be consulted here.
Be the first to see the movie MIRACLE and discover the obvious truth and hidden mystery.
Enjoy in front of everyone the exceptional acting game and the intensity of the story that will keep you in tension throughout the film, giving you the coup de grace at the end.
On January 24, a national day off, Cinema City invites you to go to the cinema and see a film made and lived in Romania.
Take your friends and family and see you at the movies, let's feel the miracle together!