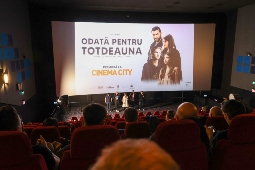 The film team "Odată pentru totdeauna" met on Sunday, February 20 at Cinema City Timișoara for the preview release of the Romanian production
The premiere of the comedy with dramatic accents will take place on February 23 at the cinema
3 days before its release in cinemas, Cinema City Timișoara hosted a special preview organized for spectators and partners in Timișoara, the city where the filming of the Romanian production took place.
The director Iura Luncașu together with the actors Smiley, Ada Galeș, Augustin Viziru, Cătălin Cazacu, Gina Pistol were present together with the people from Timișoara and enjoyed the reactions of those present.
"I am just happy to be part of this movie. I'm glad I came to the movies after 2 and a half years, and it just so happens that I came to a movie with myself. That's why I did it. To return to the cinema after 2 and a half years, to see a movie with me ", Smiley declared to the audience in the hall.
The schedule of the movie "Odară pentru totdeauna" at Cinema City can be consulted here.
The film tells the story of a successful director and father of two children, Alex, played by Similey, who goes through a period of his life in which he struggles with depression, despite his professional success. After announcing to his family that he is returning to his native village, they decide to follow him, and only with their help does he manage to overcome the difficult moments. Throughout the film, Alex's attempt to escape depression is hindered by various events, but he discovers the true meaning of life and that family, forgiveness, and love are the cure for everything.
"I want to thank the actors who really believed in this project. It's not easy to make a film based on real, obviously dramatized facts, but most of them come from some experiences, some of my own, "said Iura Luncașu, the film's director." It's very important for us to have an audience in cinema again. I have been waiting for this for too long", continues Iura Luncașu.
Smiley plays alongside Ada Galeș, the actress who won a Uniter Award for her debut, and also has an impressive career in theater and film. The cast also includes Gina Pistol, Cosmin Natanticu, Sali Levent, Giulia Nahmany, Mihnea Luncașu and Celina Enea.
"You will have a very pleasant surprise. Talk to moviegoers. It is very important for the world to come to the cinema for Romanian and independent film ", said Ada Galeș before the start of the screening in the cinema hall.
"Cinema City continues to support Romanian film and we were glad that our cinema was the site of the first emotional meeting of the film" Once and for all "with the audience, directors and partners who contributed and were involved in this production. Timișoara looks fabulous through the cinema lens, surprising even those who knew her so well. It is a film that you need, a film that must be seen and lived in the cinema - today in Timișoara, tomorrow in the whole country. See you at the cinema ", mentioned Ioana Ionescu, Marketing Manager Cinema City.

"Odată pentru totdeauna" is one of the most anticipated Romanian films of this year and will be distributed by Vertical Entertainment in cinemas across the country, starting with February 23, 2022.
TRAILER: