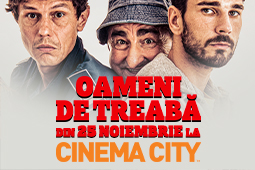 "OAMENI DE TREABĂ" - SPECIAL SCREENINGS WITH THE TEAM AT CINEMA CITY
From the movie director of "Două Lozuri", Paul Negoescu, the black comedy "OAMENI DE TREABĂ", arrives at Cinema City in 14 locations
The movie "Oameni de treabă", directed by Paul Negoescu - about good intentions and bad decisions - with Iulian Postelnicu, Vasile Muraru, Anghel Damian și Crina Semciuc, has its premiere from 25th of November in Cinema City locations.
"Oameni de treabă" is the fourth feature film directed by Paul Negoescu, after the titles "O lună în Thailanda", "Două lozuri", "Povestea unui pierde vară". The film combines elements of black comedy and thriller to tell the story of Ilie (Iulian Postelnicu), a middle-aged and lonely police chief in a village where only the influential make the law. His dream is to live a quiet life, which he thinks he could start if he bought an orchard, maybe even a house. But dubious things are happening in the village and, following violent events, Elijah finally decides to get involved.
With a story set in northern Romania and filmed last year in Botoșani county, the comedy has a script written by Radu Romaniuc and Oana Tudor.
Special screenings in the presence of the movie teams are scheduled for
⇒ Brașov (Cinema City AFI Brașov, 23th of November, at 18.30)
⇒ Cluj (Cinema City Iulius Mall, 24th of November, at 18.30)
⇒ Iași (Cinema City, 29th of Novermber, at 18.30)
⇒ Bacău (Cinema City, 1st of December at 17.30).
"From a professional point of view, it was a unique experience to direct a script that was not written by me, in an unusual universe for me - the story taking place in the countryside, in the north of Moldova, while I was born and raised in Bucharest, without having so far had any relationship with life in the country, let alone with Moldova", said the movie director Paul Negoescu. "I did a casting that lasted more than a year, interrupted also because of the pandemic. I was looking for actors who speak with a Moldovan accent, so I started the search with actors from the area - Botoşani, Iași, Suceava. Then I widened the search area, including among actors from the Republic of Moldova, even if their accent is different, then I searched among actors from Bucharest who are of Moldovan origin or have relatives in Moldova. That's how I found out that Iulian was born and raised in Moldova, which delighted me, because I had already admired him for some time",he ended.
WATCH TRAILER: