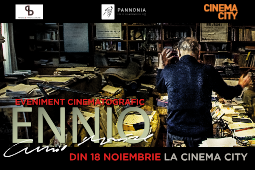 The documentary tribute "Ennio" arrives at Cinema City
18th of November, special screening in the presence of the producer
"ENNIO" is a tribute film directed by Giuseppe Tornatore, the cinematic portrait of Ennio Morricone, probably the most popular and prolific musician of the 20th century, two-time Oscar® winner, author of over 500 columns sonore, reformer of Italian pop music from the 60s and 70s but also the author of outstanding classical works.
During the five years of filming for the film "ENNIO", director Giuseppe Tornatore traveled all over the world to interview more than seventy renowned directors and musicians, from Wong Kar Wai, Bernardo Bertolucci, Quentin Tarantino, Clint Eastwood, to Oliver Stone, John Williams, Hans Zimmer, Bruce Springsteen. These talks are interspersed with moments from Morricone's private life, recordings from his concerts during his world tours, clips from the classic films he worked on.
On 18th of November noiembrie, at Cinema City from Park Lake (București), attend a special screening in the presence of the movie producer Gianni Russo
The film is a collection of stories told by famous friends and colleagues and never-before-seen archival footage, depicting places and events that took place over a career that spanned more than 70 years. But above all it is Ennio Morricone's story about himself, a vivid and fascinating account of the master himself, conducted in the form of an interview shortly before he physically left this world.
"I worked for twenty-five years with Ennio Morricone. I've done almost all of my feature films with him, not to mention the documentaries, commercials and projects we've tried to do together. All this time, our friendship grew stronger and stronger. So as I got to know him better as a person and as an artist, I wondered what kind of film I could make about him. Today my dream came true. I would like "ENNIO" to make the story of Master Mor-ricone known to the public all over the world. It was not only problematic to get him to tell me about his life and magical relationship with music, but also to search all over the world for collection interviews and other images related to Morricone's countless collaborations. I structured 'ENNIO' as a show that can let the viewer penetrate the extraordinary existential and artistic example of one of the most beloved creators." (excerpt from the interview with Giuseppe Tornatore, the film's director and screenwriter)
"ENNIO" will premiere in Romania on November 18 and will be broadcast at Cinema City Afi Cotroceni, Cinema City Park Lake, and Cinema City Sun Plaza.
WATCH TRAILER:
Famous soundtracks made by Ennio Morricone: The Hateful Eight (2015), La piovra (1984-2001), Malena (2000), Mission to Mars (2000), The Legend of 1900 (1998), Bugsy (1991), Cinema Paradiso (1988), The Mission (1986) , Once Upon a Time in America (1984), The Thing (1982), Corleone (1978), 1900 (1976), Giordano Bruno (1973), The Sicilian Clan (1969), Once Upon a Time in the West (1968), The Bible: In the Beginning… (1966), The Good, the Bad and the Ugly (1966) , A Fistful of Dollars (1964)