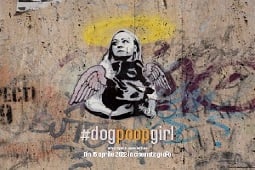 The black comedy #dogpoopgirl, a Romanian movie about fake news and the online dangers: in cinemas starting 15th of April
Romanian film director Andrei Huțuleac's #dogpoopgirl debut is inspired by the first case of public shaming* in the history of the Internet and will premiere in cinemas across the country starting April 15th.
In a social context dominated by fake news, the film is a tragicomic satire with absurd elements, that reveals the dangers facing modern society due to the sudden spread of false information on the Internet and especially on social media.
Inspired by real events, #dogpoopgirl won the 2021 Romanian Film Days Award for Debut at the 20th edition of the Transylvania International Film Festival.
The film has also been featured in prestigious international magazines such as Variety, Screen Daily and Cineuropa. The film represents Huțuleac's directorial debut and has a cast of important names including Andreea Grămoșteanu, Tudor Istodor, Cezar Antal, Coca Bloss, Rodica Mandache and Dana Rogoz.
The tickets can be purchased by accessing this link.
SINOPSIS
The dramatization of this real situation captures the story of the character Alina Moga, played by Andreea Grămoșteanu, an employee of a corporation in Bucharest. Alina has a tumultuous personal life, but enough money to ensure some happiness. The apparent calm of his life is greatly shaken when he adopts a puppy who vomits on the floor of a subway car in the Capital. The incident was filmed by a teenager and posted on social media. The post unleashes a series of events that throw Alina's life into chaos, as she desperately tries to dismantle the fake news circulating at the speed of light. The internet is of the opinion that the animal has defecated in the subway, while the reality is different.
"What I want to emphasize from the beginning is that the film does not aim to find culprits or provide solutions. Do not divide people into angels and demons. As a director and screenwriter, I tried to tell the story of how everyday reality is distorted by social media and the internet. #dogpoopgirl is a fictional story inspired by a real case that debates the subjective nature of the way society looks at certain situations, through the prism of social networks, but also the need for people to unite against a common enemy, even when that is just a woman whose dog vomited on the floor of a subway. Or did he poop? "said Andrei Huțuleac.
*In 2005, a woman's dog defecates on the floor of a subway car in Seoul, South Korea. For unknown reasons, the woman refuses to collect the mess, is photographed, and the incident goes viral all over the world through an opinion blog. Within a month of the event, the woman is fired, expelled from the university, and begins receiving death threats.
TRAILER