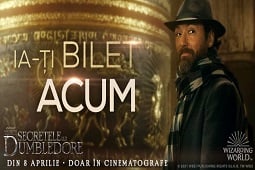 TICKETS FOR FANTASTIC BEASTS: SECRETS OF DUMBLEDORE ARE NOW ON SALE AT CINEMA CITY
"Fantastic Beasts: The Secrets of Dumbledore" from Warner Bros. Pictures is the newest adventure in the Wizarding World universe created by J.K. Rowling.
The story revolves around Professor Albus Dumbledore (Jude Law), who learns that the powerful dark wizard Gellert Grindelwald (Mads Mikkelsen) is plotting to take control of the wizarding world. Unable to stop him alone, he entrusts the magician Newt Scamander (Eddie Redmayne) with the task of leading a brave team of wizards, witches, and a baker. clash with Grindelwald's growing legion of followers. But with such a high stake, how long can Dumbledore stay on the sidelines?
Tickets are available by accessing this link.
"Fantastic Beasts: Dumbledore's Secrets" is available at Cinema City in 2D, IMAX, 4DX, and VIP formats - choose your preferred format.
The production is directed by David Yates, based on a screenplay created by J.K. Rowling and Steve Kloves, and is the third part of the "Fantastic Beasts" franchise, which followed the eight "Harry Potter" movies.
TRAILER: