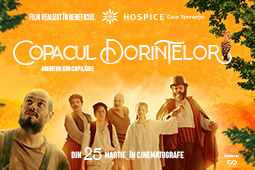 COPACUL DORINȚELOR: AMINTIRI DIN COPILĂRIE AT CINEMA CITY, FROM 25th of MARCH
Hope without border: The cast and crew of movie "Copacul Dorințelor: Amintiri din copilărie"
comes to your city to meet you at Cinema City
The first fantastic film produced in Romania in the last 30 years addressed to the contemporary generation of parents and children, "Copacul Dorințelor: Amintiri din copilărie" will be shown exclusively in cinemas across the country starting March 25, 2022.
"Copacul Dorințelor: Amintiri din copilărie" marks the debut of a young actress named Maya Noelle Prediger, who plays the role of Mara, a little girl whose journey into the fantasy world of Ion Creangă's "Childhood Memories" becomes a humorous adventure. The story of the friendship between children and adults is created in the film with the help of an exceptional cast that includes Matei Dima (Bromania), Cosmin Nedelcu (Micutzu), Teodor Corban, Grigorie Silișteanu, Ada Condeescu and Irina Margareta Nistor.
The film is written by Mihai Mănescu, Andrei Huțuleac, and Matei Dima, is directed by Andrei Huțuleac and is made for the benefit of the HOSPICE Casa Speranţei foundation for the support of palliative care services offered to adult patients and children in Romania. HOSPICE Casa Speranței and its partners will direct half of the proceeds from film ticket sales in cinemas to the support of Ukrainian refugees.
The film crew will be present in several locations, for a meeting with fans, at an autograph session and pictures, as follows:
24th of March - Cinema City in AFI Brașov, 19.30
26th of March - Cinema City in Constanța City Park, 19.30
30th of March - Cinema City in Cluj Iulius Mall:, 19.30
2nd of April - Cinema City in Timisoara Iulius, 19.30
"I think this movie, in addition to its stated goal of doing good, can be a nice break from the many ugly things we see today. It is a fantastic film, intended for both children and adults, that talks about friendship, generosity, and solidarity, things that we need in this troubled time., "said Matei Dima, actor, screenwriter and producer of the film.
Vizionare TRAILER