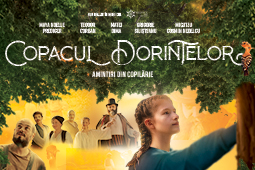 SPECIAL GALA SCREENING FOR COPACUL DORINȚELOR: AMINTIRI DIN COPILĂRIE AT CINEMA CITY
Wednesday, 23th of March, at 19.30, COPACUL DORINȚELOR: AMINTIRI DIN COPILĂRIE arrives with gala sneak at Cinema City at Ploiești Shopping City
Copacul Dorințelor is the first fantastic Romanian family film, with an immediate impact on the quality of life. The film is inspired by real facts, illustrating the story of Mara and her friends, who are on an adventure that takes them into the world of Ion Creangă's childhood memories.
The story is loaded with emotion, adventure, humor and hope, artistically celebrating the value of each moment and the joy of life.
The special gala screening in Ploiești Shopping City will take place in the presence of the film team: director Andrei Huțuleac, screenwriter and actor Matei Dima (Bromania), Mihai Mănescu (screenwriter & producer), lead actress, Maya Noelle Prediger and Irina Margareta-Nistor (film critic). The film will be preceded by a Meet & Greet session and autographs.
Inspired by the true stories of several children, patients of the HOSPICE Casa Speranţei Foundation, the film was created pro bono, all proceeds being directed to HOSPICE Casa Speranței and the free palliative care services it offers to children and families.
Get ready to step on the red carpet with the film crew and special guests!
Take your friends and family and come on March 23 to Cinema City in Ploiești Shopping City to enter a fantastic world!
TRAILER