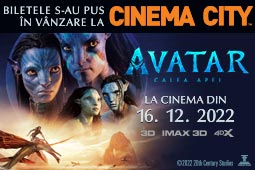 YOU'VE BEEN WAITING FOR IT, NOW YOU'RE SEEING IT AT THE CINEMA: TICKETS FOR 'AVATAR: THE WAY OF WATER' ARE NOW ON SALE
The desired film for more than a decade hits the big screen at Cinema City from December 16 - tickets for James Cameron's latest follow-up to 2009's Avatar, The Way of Water, are now on sale
With stunning visuals that immerse you in the action and capture the beauty of an underwater world, "Avatar: Waterway" brings to cinema a never-before-seen process to capture a new digital motion capture system.
Set more than a decade after the events of the first film, "Avatar: Path of Water" begins to tell the story of the Sully family (Jake, Neytiri and their children), the troubles that follow them, the things they are willing to do to protect each other, the battles they fight to stay alive and the tragedies they endure.
GET YOUR TICKETS by accessing this link
James Cameron returns to reinvent cinema - once again - "I had to think long and hard about whether I really wanted to make this sequel to the biggest hit in cinema history. The pressure was huge. And so were the expectations. I told the producers: OK, I'm doing it, but I don't want to just make a movie, I want to tell a big story."
MOVIES INFORMATIONS
available formats: IMAX, IMAX 3D, 4DX 3D, VIP, 3D, 2D
director:James Cameron
cast: Sam Worthington, Zoe Saldaña, Sigourney Weaver, Stephen Lang, Cliff Curtis, Joel David Moore, CCH Pounder, Edie Falco, Jemaine Clement, Giovanni Ribisi, Kate Winslet
TRAILER: