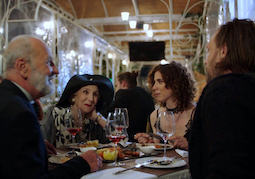 SPECIAL MOVIE SCREENINGS FOR THE MOVIE RONDUL DE NOAPTE, AT CINEMA CITY, IN THE PRESENCE OF THE DIRECTOR
"Rondul de noapte", the latest film signed by the well-known Romanian filmmaker, Iosif Demian, will be shown starting Friday at Cinema City AFI Cotroceni, Constanța Park, și Cinema City AFI Brașov,Cinema City Timișoara Shopping City - for the last two locations, moviegoers will have the opportunity to meet the director as well
"For me, the world of films has been and continues to be like a pandemic that fascinates me, that I am attracted to, imagining events, destinies, a refuge in the face of an immediate reality that I cannot accept and the moment of making the film, a state of convalescence from which I refuse to recover. Each film becomes a chance to test my physical and spiritual resources, an adventure through which I urge my accomplices, future viewers, to get involved step by step, sequence by sequence. By interpreting what they saw, beyond the verdict, I propose a newborn attachment. And this film made by me, proposes a series of unintentional controversies that I did not avoid and that I do not give up. " declares the director and continues: "there comes a time when everything ends, you leave without a phone, without a car, without personal documents. Without your own clothes. What follows will remain a mystery. If you want to know what happened to some of them, watch the movie Night Watch", said the director.
Iosif Demian currently lives in Australia, where he settled after being forced to leave Romania during the communist regime, due to his awkward films, which were stopped from being broadcast by the censors of the time, immediately after their release. His debut film, "O lacrimă de fată" which was presented in the official selection of the Cannes Film Festival (Un Certain Regard, 1982) was followed by "Baloane de curcubeu", "Lovind o pasăre de pradă", "Piciu".
The director is present in the country for the release of the film, together with his wife, Erika Jozsa Demian, who signs the original music of the film. You can meet both of them at Cinema City, as follows:
⇒ Friday, 17th of June, 19:00 at Cinema City AFI Brașov
⇒ Saturday, 18th of June, 19:00 at Cinema City Timișoara Shopping City.
VIZIONARE TRAILER