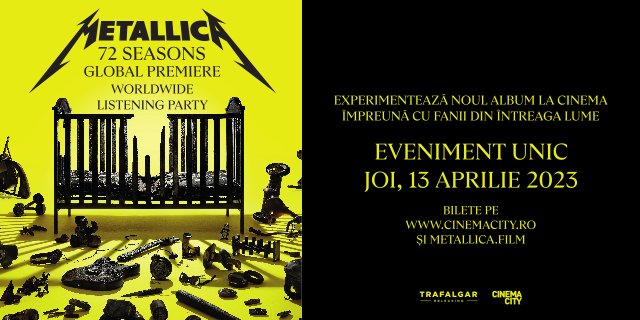 JOIN THE GLOBAL METALLICA LISTENING PARTY ON APRIL 13
- ONE DAY ONLY -
Cinemas around the world will be transformed into a huge Metallica concert hall
Be the first to hear the band's new album, 72 Seasons, the day before its release, ON THE BIG SCREEN, with pummeling surround sound in this special event exclusively in cinemas for one night only.

72 Seasons is Metallica's long-awaited 12th studio album, preceded by first single "Lux Æter-na"— hailed upon its November 28, 2022, release as "thundering, breakneck" (Billboard), "gut-punching" (Rolling Stone) and "blistering" (USA Today).

72 Seasons - Global Premiere will feature exclusive interviews with Metallica, with the full band delving into the origins and stories behind the songs and accompanying music videos for every track on the album. The result will be a one-night-only opportunity for fans to experience 72 Seasons first and fully.

You can purchase tickets by accessing this link.
Cast: Metallica (James Hetfield, Lars Ulrich, Kirk Hammett, Robert Trujillo)
Director:Tim Saccenti
Available formats: 2D, VIP
WATCH TRAILER: