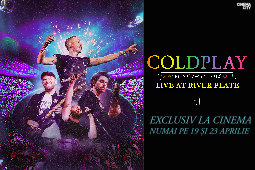 COLDPLAY MUSIC OF THE SPEHERES - LIVE AT RIVER PLATE LA CINEMA CITY ÎN CONCERT SPECIAL
≈ SPECIAL EVENT ≈
Following the record-breaking success of dCloldplay Music of the Spehere Live Broadcast from Argentina to cinemas worldwide last October, the band returned to the big screen in this brand new, definitive director's cut of the show, also available in 4DX screen formats.
în octombrie anul trecut, parte a turneului Music Of The Spheres, Coldplay revine pe marele ecran, într-o nouă versiune a spectacolului, disponibilă în format 2D și 4DX - movie theaters become the biggest theaters with movie-like emotions!
Filmed during Coldplay's sold out, ten night run at Buenos Aires' River Plate stadium, this spectacular concert film features remixed / remastered sound and stunning visuals captured by BAFTA-winning and Grammy-nominated director Paul Dugdale, including a host of previously-unseen footage.Lumini, lasere, artificii și brățări LED crează atmosferă într-un concert pe care The Times l-a numit "cel mai mare spectacol de muzică live din toate timpurile".
Lights, lasers, fireworks and LED wristbands fill the screen in a concert that The Times has heralded as "the greatest live music show ever". Alongside classic hits such as Yellow, Fix You, Viva La Vida, My Universe, and A Sky Full Of Stars, the film features stellar guest appearances including Jin of BTS with the live debut of his record-breaking single The Astronaut.
Don't miss your chance to share this joyful, life-affirming experience with Coldplay fans all over the world.
Enjoy Coldplay on the BIG SCREEN at CINEMA CITY!
Vizionare trailer: