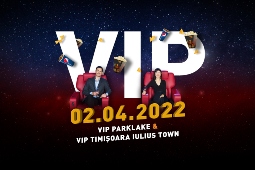 Movie premieres are best seen in VIP Cinema City theaters
April brings long-awaited premieres at Cinema City, productions that lovers of the Big Screen can discover in a Hollywood-worthy atmosphere, where the movies are at home: at the cinema. Some of the most anticipated titles of the year are set to launch this weekend at Cinema City and promise to keep the audience still in the VIP lounges - and more.
Exciting VIP premieres this weekend at Cinema City
From this weekend, the action and adventure come into force at the cinema, which also guarantees the joy of watching movies with friends at the cinema. In the VIP halls of Cinema City, three new titles are entering, at each choice, depending on your own preferences - there are different genres.
Fans of Marvel productions receive a new chapter in the series of comic book adaptations, along with the premiere of "Morbius", a character brought to life by Jared Leto. Directed by Daniel Espinosa, the action SF shows us the consequences of the decision of a doctor who goes in search of a cure for a rare blood disease, only to develop a dangerous start that he can hardly control. The second VIP viewing proposal is the romantic comedy "The Lost City". Here we meet the actors Sandra Bullock, Channing Tatum, and Daniel Radcliffe, caught in an adventure full of adventures, after they arrive in the middle of the jungle, in search of a hidden treasure. Fans will also enjoy a short meeting with Brad Pitt, who will delight with many humorous scenes.
The list of the three films ends with the animation and adventure movie "Sonic 2", one suitable for both video game nostalgics and children who discovered the energetic character in the first part of 2020. The sequel directed by Jeff Fowler allows us to reunite with Sonic, the blue hedgehog that runs with astonishing speed - voice provided by Ben Schwartz. The cast includes James Marsden, Tika Sumpter, Natasha Rothwell, Adam Pally, Idris Elba, and Jim Carrey. With new friends with him, Sonic will have to stop Robotnik's evil plan again.
Two reasons to watch movies from the VIP chair
5-star cinematic experience - moviegoers have an all-inclusive VIP experience and benefit from an avant-garde concept that combines the gourmet experience with the cinematic show. 30 minutes before the start of the screening, spectators will have an unlimited attractive menu in a private space, and then enjoy watching the movie from the famous fully computerized leather armchair, Lazy Boys, in a cinema with a number of limited seats, enjoying popcorn and nachos with refill throughout the screening, all for the price of a single movie ticket.
State-of-the-art innovative technologies - Impeccable sound, large projection screens, outstanding image clarity, comfortable armchairs, modern design, all are the perfect ingredients for moviegoers to enjoy the perfect VIP movie.